NASA is taking research to new heights -- and lengths -- with an ambitious upcoming mission.
美国航空航天局即将进行一项雄心勃勃的任务,将研究推向新的高度,同时也拓展了研究领域。
ASTHROS (Astrophysics Stratospheric Telescope for High Spectral Resolution Observations at Submillimeter-wavelengths) is a balloon that will carry a telescope into the stratosphere to study the cosmos and "observe wavelengths of light that aren't visible from the ground," NASA says.
美国航空航天局说,ASTHROS(亚毫米波长高光谱分辨率观测的天体物理平流层望远镜)是一个气球,携带望远镜进入平流层研究宇宙,并"观察地面上看不到的波长"。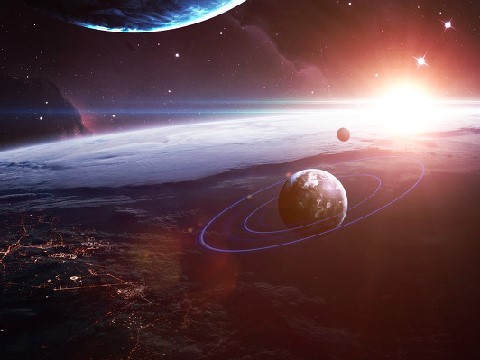 A gondola will be used beneath the balloon to carry the instrument as well as the telescope, which is made up of an eight-foot antenna and several mirrors, lenses and detectors.\
气球下面有吊篮,装有器械和望远镜,望远镜上有八英尺天线和几个镜子、透镜和探测器。
To do this successfully, ASTHROS has to hit an altitude of around 130,000 feet (roughly 24.6 miles), which is about four times higher than commercial airliners fly! As for the dimensions of the balloon itself, it measures 400 feet wide -- about the size of a football stadium, according to the release.
为了成功完成任务,ASTHROS需上升到约130,000英尺(约24.6英里)的高度,比商用客机飞行高度高出四倍!据透露,气球本身400英尺宽,约为一个足球场大小。
The team has put finishing touches on cooling and electronic systems involved, and in August, engineers will perform tests to make sure they run smoothly.
该团队已完成冷却和相关电子系统的收尾工作,工程师们将于8月份进行测试,以确保运行平稳。
NASA says the balloon is expected to make two or three loops around the South Pole in about 21 to 28 days, studying regions in the Milky Way galaxy, newborn stars, nitrogen ions and more.
美国航空航天局说预计这个气球将绕南极两到三圈,耗时约21-28天,研究银河系的区域、新生恒星、氮离子等。
After the mission is completed, operators will send commands that effectively separate the gondola, which is connected to a parachute, from the ballon. The gondola will then fall to the ground so the telescope can be collected and refurbished for future flights.
任务完成后,操作人员将发送指令使吊篮和气球有效分离,吊篮上绑有降落伞。吊篮将着陆,以便收回并翻新望远镜,以备未来之需。
翻译:菲菲