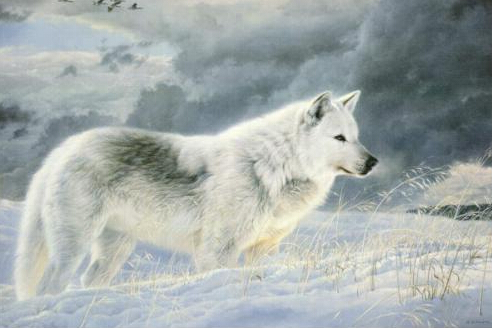 There is a wolf. He is very hungry and has no strength to find food. As he lies under a large tree, a dog sees him. The dog sees the wolf is so thin and hungry, and he feels sorry for him and says, "You are so terrible! Are you hungry?"
"Yes," says the wolf, "I'm hungry because you are guarding the sheep. Now I am so weak that I can't find food. I think I will do."
"Why not help me?" Asks the dog, "I work regularly and I eat regularly. You could do the same. You can help me guard the sleep. In that way, I will not worry about your stealing the sleep, and you will not worry about going hungry. It's good for us.
The wolf thinks it over and thinks the dog is right. So they walk to the dog's house. As they are walking, the wolf sees that only the hair of the dog's neck is very thin. He is curious about this. So he asks the dog about it.
"Oh, don't worry about that," says the dog, "It's the place where the collar ties on the neck. My master chains me up at night,"
"Chained up!" shouts the wolf, "Do you mean that you are chained up at night? If I come to live with you, will I be chained up at night, too?"
"That's night," says the dog, "But, you'll get used to it."
"But, if I am chained up, I won't be free." After saying this, the wolf turns round and runs away.
The dog shouts, "Wait! Come back! I'm not free, but I'm healthy. I have good food, and a warm place to sleep. I like enjoying life. In fact, I'm freer than you are."