"Game of Thrones" finished its epic run in May, but the franchise – as opposed to many of the HBO hit's deceased characters – appears to have plenty of life left in it.
五月份史诗级巨作《权利的游戏》大结局了,但这部剧与HBO许多热播剧中死去的角色不一样,剧里好像还有很多生命。
HBO is nearing a pilot deal for a prequel series that would be set three centuries before "GoT" and would focus on the decline of House Targaryen.
HBO即将试播一部前传,剧情设定在《权游》的300年前,主要讲述坦格利安家族的衰落。
Deadline first reported the news, which was confirmed by a person familiar with the project who was not authorized to speak publicly.
最初是Deadline网站报道了这一消息,从一个内部人士那里得到了证实,但此人无权公开透露这一消息。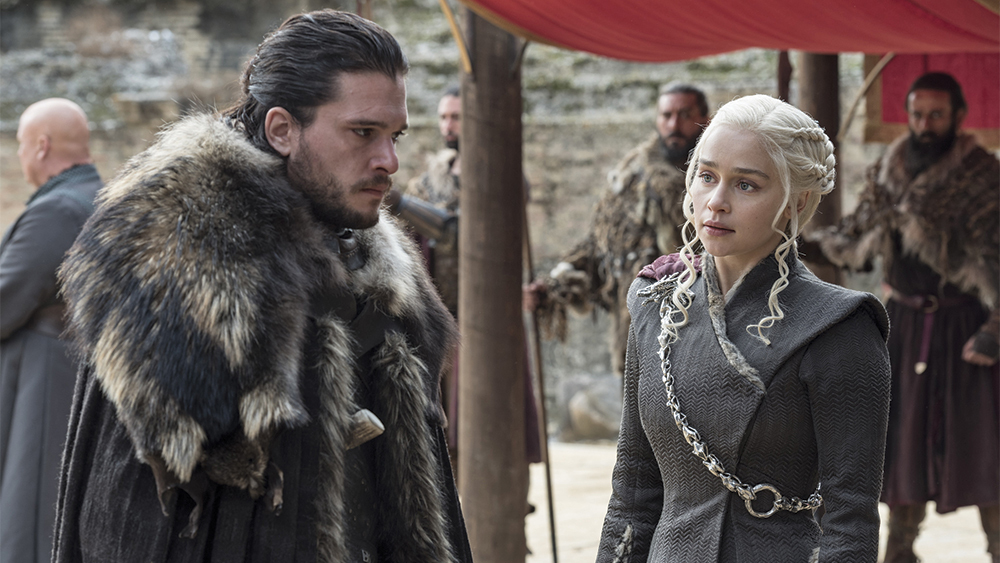 The project is from George R.R. Martin, best-selling author of the book series on which "GoT" is based, and Ryan Condal ("Colony").
剧本出自乔治·雷蒙德·理查德·马丁和Ryan Condal(《殖民地》的编剧),马丁是《权游》的原作丛书的畅销作者。
Martin suggested in May on his blog that readers could get hints about the project by reading his novel "Fire & Blood." The book is described as a Targaryen history and is set 300 years before the events of "GoT," which featured one of the family's most famous descendants, Daenerys Targaryen (Emilia Clarke).
马丁于五月份在博客上表示读者可以从他的小说《火与血》中得到一些新剧的线索,这本书被称为坦格利安家族史,故事发生在《权游》的300年前,《权游》的主角之一丹妮莉丝·坦格利安(艾米莉亚·克拉克饰演)就是这个家族最著名的后代之一。
He wouldn't reveal the plot of the new project, but wrote: "Maybe some of you should pick up a copy of 'Fire & Blood' and come up with your own theories."
他不能对新剧剧透,但他写道:"你们有些人可能应该读读《火与血》,自己脑补一下剧情。"
Another potential prequel series already is in the works, having completed taping of the pilot in Ireland earlier this year.
另外一部即将播出的前传已在制作中,今年早些时候已在爱尔兰完成试播录音。
That project, which is in post-production, stars Naomi Watts and is set thousands of years before the original. During remarks at the Television Critics Association in July, HBO program chief Casey Bloys said the filmed dailies look "really good."
这部剧正处于后期制作阶段,由娜奥米·沃茨主演,故事发生在原著的数千年前。HBO项目负责人Casey Bloys 7月份在电视评论家协会提到该剧时说拍摄效果"真的很不错"。
翻译:菲菲